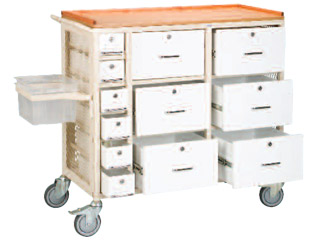 3-4 Weeks from receipt of payment.
Self Administration Drug Trolley with Six Small Locking Drawers & Six Large Locking Drawers
Item Code: FPD-08681
Dimensions: 1060 mm x 1250 mm x 550 mm
Drug Storage Trolley to Cater for patients where self administration is not feasible. The six smaller drawers are primarily designed for Patients own drugs and the six larger drawers for 'stock' drugs. The drawers are supplied with individual keys. 2 master keys to access all 12 drawers are supplied free of charge. Additional master keys are available at a small additional cost.
Trolley solution for securely dispensing medicine & drugs