Hands Free Fire Retardant Removable Body Bin
Hands free sackholders are designed for operation using only the foot pedal to minimise the risk of cross infection in high risk areas. Designed to meet the requirements of infection control. Hands free lid option prevents use by hand for infection control. Fixed metal easy clean bag retainer. Safe corner design, no sharp edges. Off the wall design to prevent wall damage. Removable sleeve – removable body to facilitate easy cleaning and sterilisation. Non marking wheels for mobility. Drip tray preventing leakage. Base designed to let air flow under with rubber feet. Easy access pedal.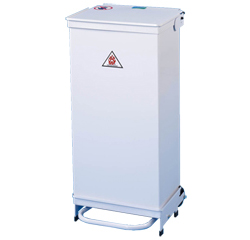 2-3 Weeks from receipt of payment.
Hands Free Fire Retardant Removable Body 90 Litre Bin
Item Code: FPD-06177
Dimensions: 870 mm x 410 mm x 440 mm
Hands free sackholders are designed for operation using only the foot pedal to minimise the risk of cross infection in high risk areas. Designed to meet the requirements of infection control. Removable body to facilitate easy cleaning and sterilisation.
Easy clean removable body
Pull out handle
Hands free
Foot operation only
Double axle wheels for easy movement
Fully tested to HTM 83
Fire tested product