Low Temperature Laboratory Freezer
For laboratory and general use where there is a need to store at lower than normal freezing temperatures and/or there is concern that volatile, flammable materials or components might be stored now, or at some point in the future. Labold and Lec Medical brands supplied.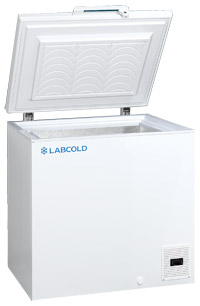 3-4 Weeks from receipt of payment.
Labcold RLHE0845 Superfreezer 237 Litres
Item Code: FPD-04972
Dimensions: 860 mm x 1050 mm x 735 mm
For laboratory and general use where there is a need to store at lower than normal freezing temperatures and/or there is concern that volatile, flammable materials or components might be stored now, or at some point in the future. Chest configuration provides improved temperature uniformity and stability with much reduced temperature rise following door openings.
Capacity: 237 litres (gross)
Construction: White enamel exterior, Aluminium interior, Additional insulation
Baskets supplied: 1, wire mesh
Digital display of temperature Sparkfree interior
Door lock
Easy-grip door handle
CFC and HCFC free
Temperature set-point range: -20 to -45°C
Audible high temperature
Operator controlled defrost