Unit Dosage System or (UDS) Trolley
Unit Dosage System (UDS) Trolley A best choice to many residental nursing homes requiring a stylish & contemporary in design UDS mobile cart, strong, secure and durable in construction, unit dosage drug trolleys are the ideal solution for storing, distributing and dispensing medicines and patient prescriptions. Unit Dosage System (UDS) Drug Trolleys are available in 2 sizes to accommodate individual patient prescriptions to be stored in their own trays. Strong, secure and hygienically designed, our trolleys are finished in durable beech effect laminate, providing an optimum drug storage and distribution solution for hospitals, nursing homes and health care centres.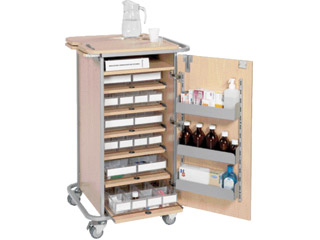 Small Unit Dosage Trolley
View Detail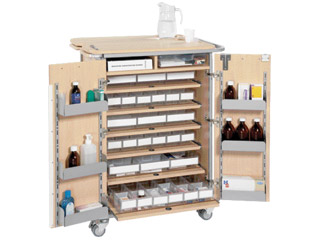 Large Unit Dosage Trolley
View Detail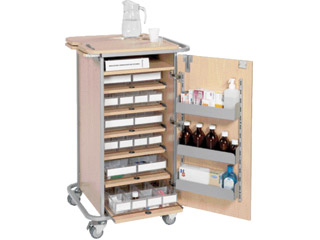 3-4 Weeks from receipt of payment.
Small Unit Dosage Trolley
Item Code: FPD-05580
Dimensions: 1090 mm x 620 mm x 540 mm
Pull-out shelves with finger recess
Pull-out work surface
Adjustable height door shelves
Locking door with folding key
Integrated cup, pill cup and water jug recesses
Integrated pen recess
Push and pull handle, bin & medi rail
All round protective rail
Twin wheel front braked castors
3 shelves with 2 wide trays and 6 dividers
3 shelves with 4 narrow trays and 12 dividers
Standard tray capacity provides 36 compartments
Up to 90 compartments can be acheived by fitting additional dividers
Three adjustable height door shelves
Shelf for patients record file