Medical Notes Trolley to store medical paperwork
Designed to provide a complete solution for storing, distributing and accessing medical notes and X-Rays. Medical notes trolleys are hygienically designed and combine smart adjustable filing pockets with easy access, while being functional, strong, secure and easy to clean. Now available with digital combination locking system.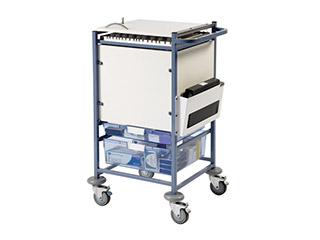 3-4 Weeks from receipt of payment.
Medical Notes Trolley (small) with Enclosed Sides & Hinged Locking Top
Item Code: FPD-12012
Dimensions: 1060 mm x 640 mm x 570 mm
Lightweight easy to manoeuvre design
Secure locking top (2 keys per lock) keyed alike
Secure solid sides and base
Accepts foolscap or X-Ray size filling pockets (not included)
Accepts 470mm & 360mm filling pockets (not included)
Filling pocket identification label for easy re-ordering
Wipe clean filing pocket tabs (supplied with pockets)
Hinged top opens to create additional working space
Hygienic stainless steel handles
4 removable storage trays
Side storage for patients record file
Push pull handles
Four 100mm braked castors
Four protective buffers
Durable laminate faced MDF with 2mm edging
Easy clean design and materials
2 year warranty
Supplied fully assembled
British made
Delivery normally within 3-4 weeks